Attention all homeschooling families! Stop in for our Homeschool STEM every Tuesday from 11am-12:15pm to utilize our self-led, hands-on STEM activities. $5 per person, ages 7-12.
Here are the upcoming topics:
October 12:

Levitating Ping Pong Ball.

Using air pressure students will explore the bernoulli effect.
October 19:

Unspillable Water.

Is air pressure stronger than gravity?
October 26:

Lil' Suctioner.

Using standard air pressure, students will calculate the air pressure exerted on the device.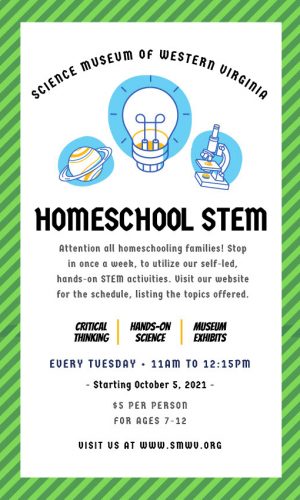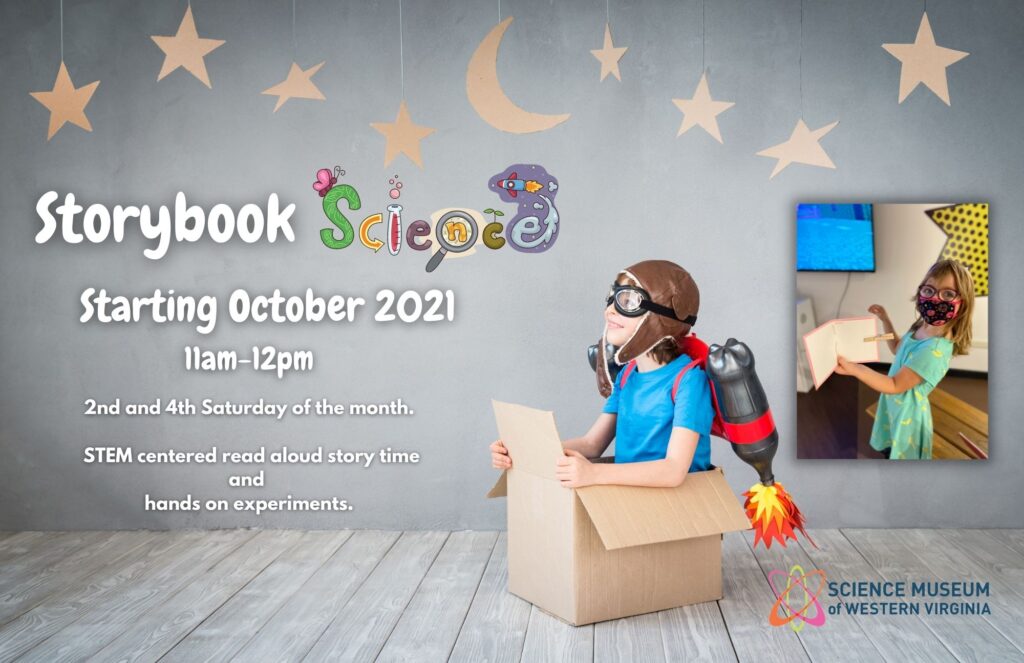 Join us for Storybook Science starting October 9th 11am-12pm every 2nd and 4th Saturday of the month. We will have STEM centered read aloud story time and hands on experiments. Recommended for ages 3-7. Free for members and $5 for non-members and $13 for event and admission to the museum. 
Are you ready for another trivia night?! Do you love scary movies? Well guess what? We are doing scary movie trivia just in time for Halloween! It will be on Wednesday October 6th from 6pm to 8pm at Big Lick Brewing Company. We will have a ca$h prize giveaway! Come by and see us! Sit For a Spell & Enjoy a Brew!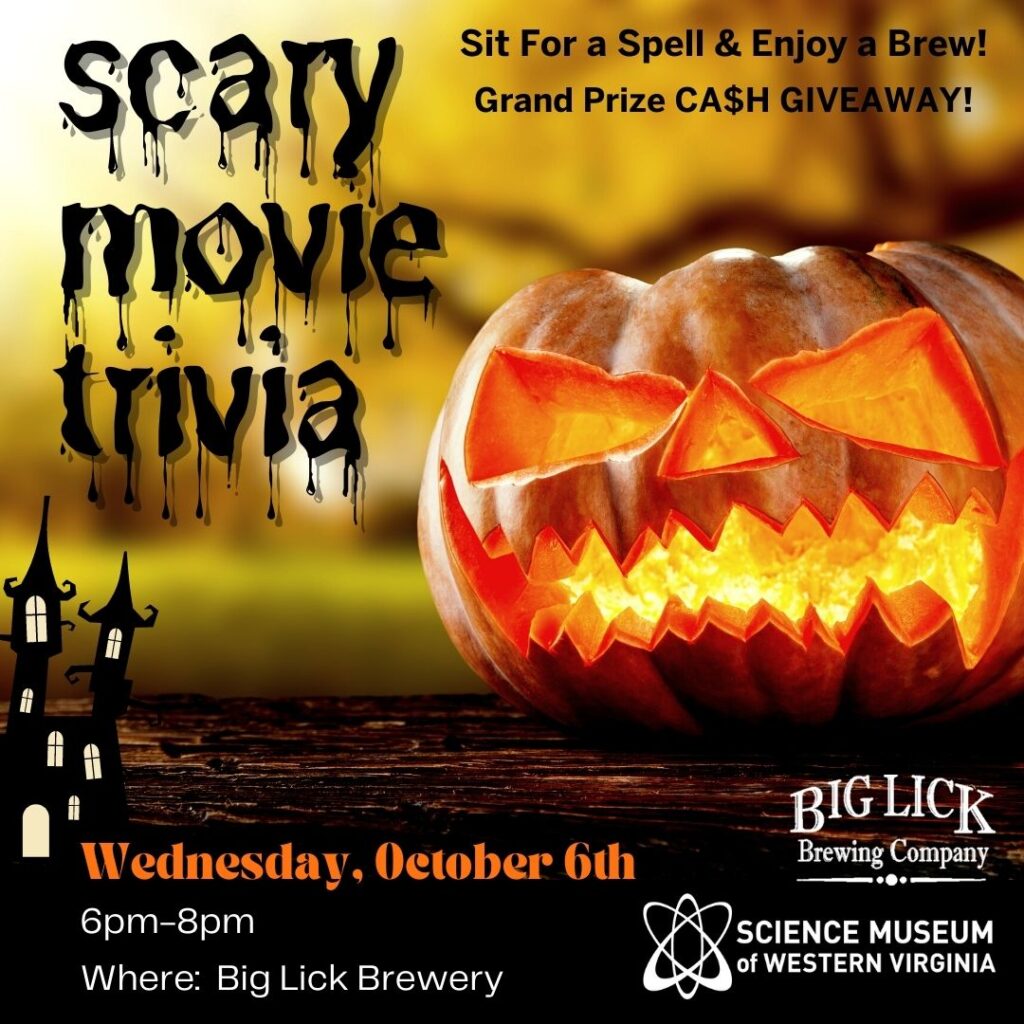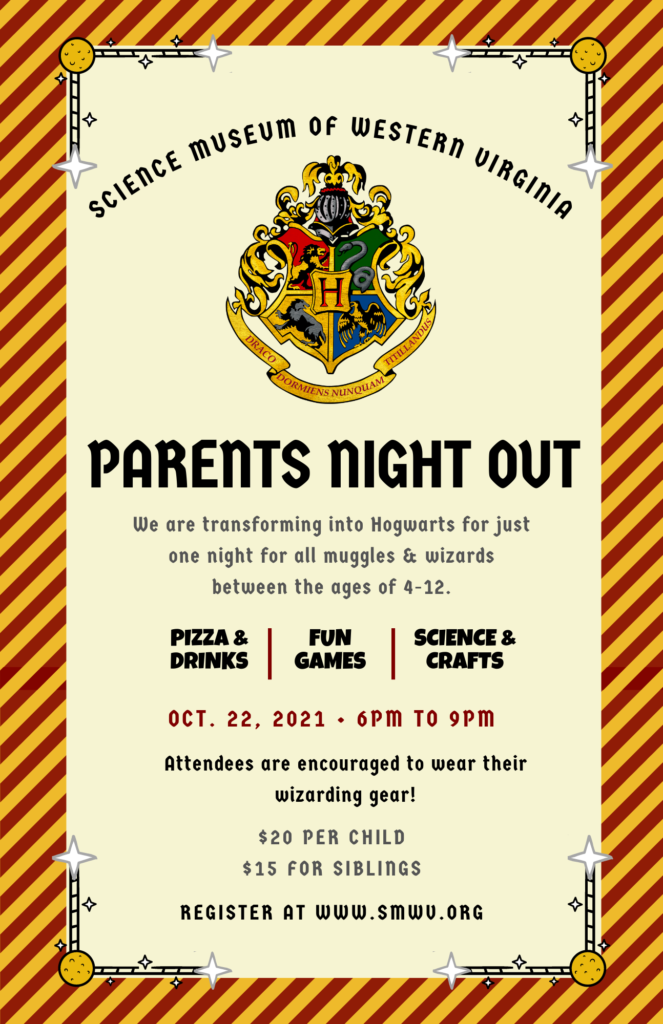 Come join us for our first Parents Night Out, "Museum of Magic," at the Science Museum of Western Virginia! One Friday at the end of every month, we're inviting kids for a night full of fun IN, so you can enjoy a night OUT!
For just one night, we are transforming into Hogwarts for all muggles and wizards between the ages of 4-12. There will be pizza, free exploration time of the museum (all to themselves), science experiments in Potions Class, a Tri-Wizard Cup Hunt, and down time before heading home with a movie and a craft. Attendees are encouraged to wear their wizarding gear! There are limited spaces available.
Please note that all positions are currently full for the month of October.
Join us at the Science Museum of Western Virginia in partnership with Virginia Cooperative Extension for fresh produce from local farmers and activities focused on kitchen chemistry! Each month, we will experiment with a different fruit or vegetable. This event is FREE for members and included in the ticket admission price!
Time: 12:00pm-3:00pm
Wednesday Sept 22:

Totally Tomatoes!

Friday Oct 29:

Zucchini with a Zing!

Tuesday Nov 2:

Keep it Cool with Cucumbers

Friday Dec 17:

Carrots…Getting to the Root of it!

Wednesday Jan 26:

Sweet Potatoes…Beyond the Marshmellow Mash!

Wednesday Feb 9:

BAM! Butternut Squash

Friday Mar 18:

Can we Convince you Kale!?

Friday April 15:

Lovely Lettuce

Thursday May 5:

Strawberry Fields Forever!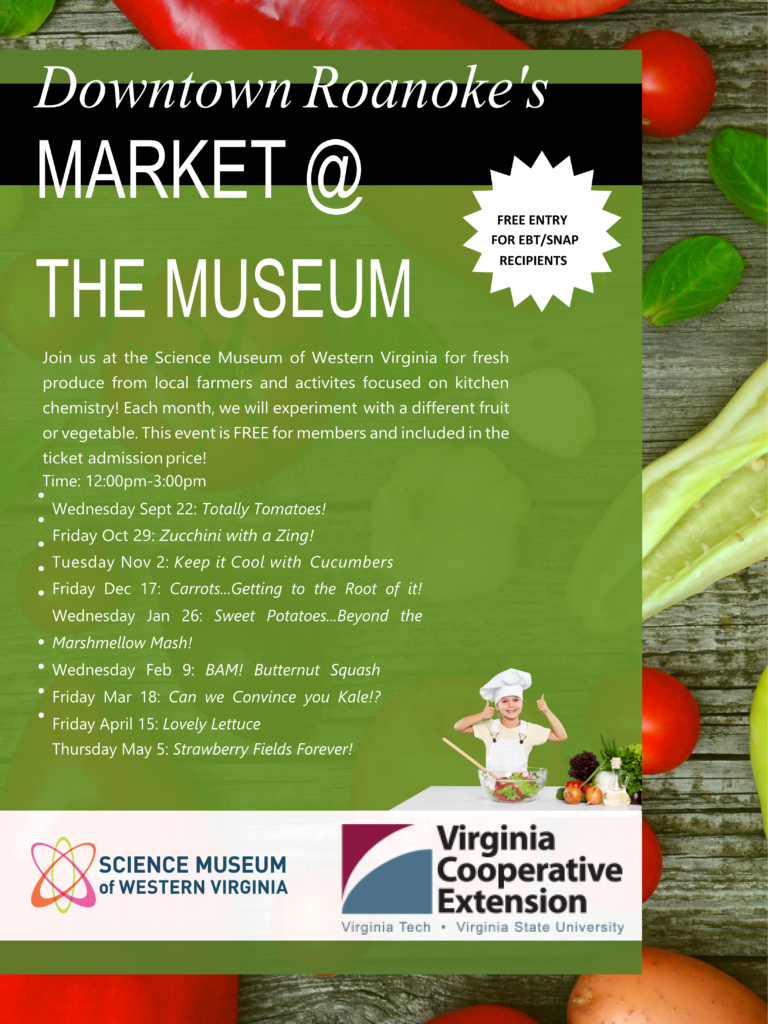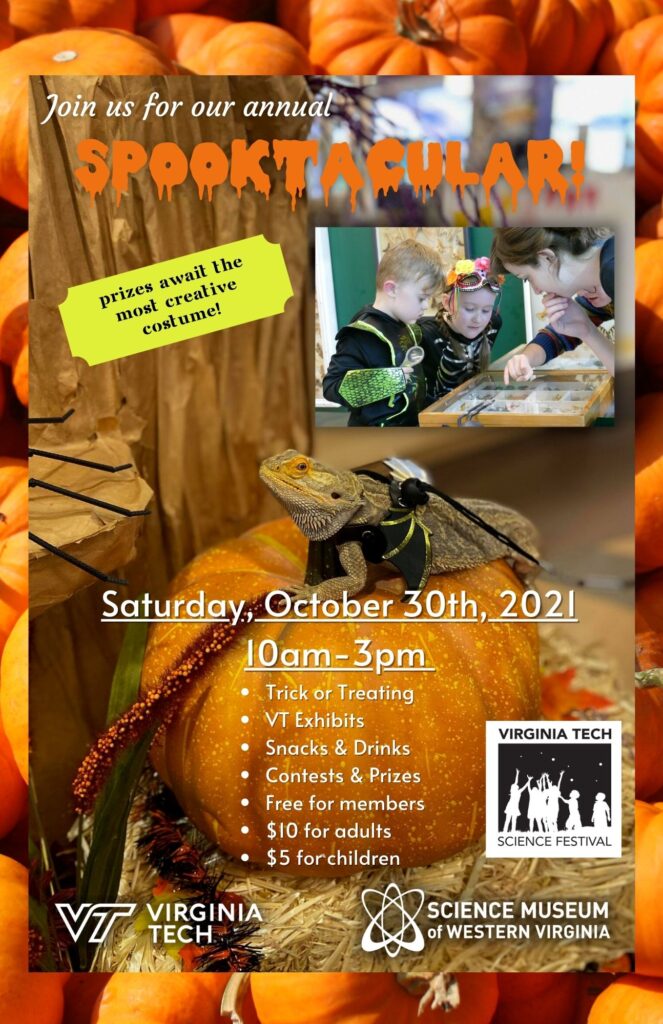 Join us for our Spooktacular event Saturday, October 30th at 10am-3pm.
Event includes trick-or-treating, Virginia Tech exhibits, snacks & drinks, and contest prizes.
Be sure to wear your best costume for a chance to win. Free for members, $10 for adults and $5 for children. Fun for all ages!
Arts & Crafts & STEM will be a free weekly event every Friday from 11am – 12pm. For ages 4+ and will be located in the maker lab.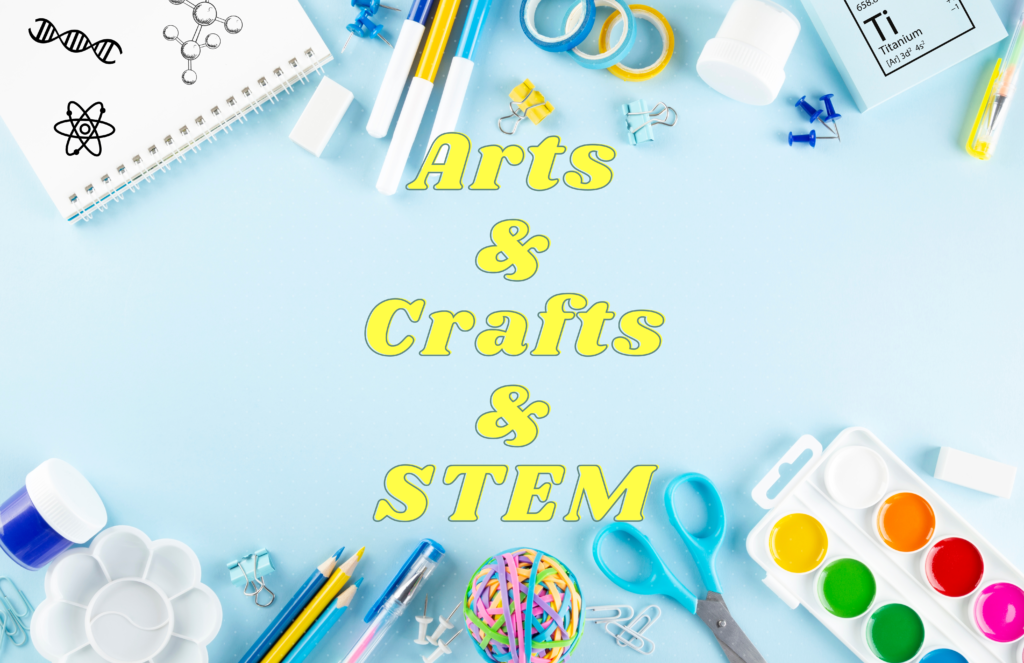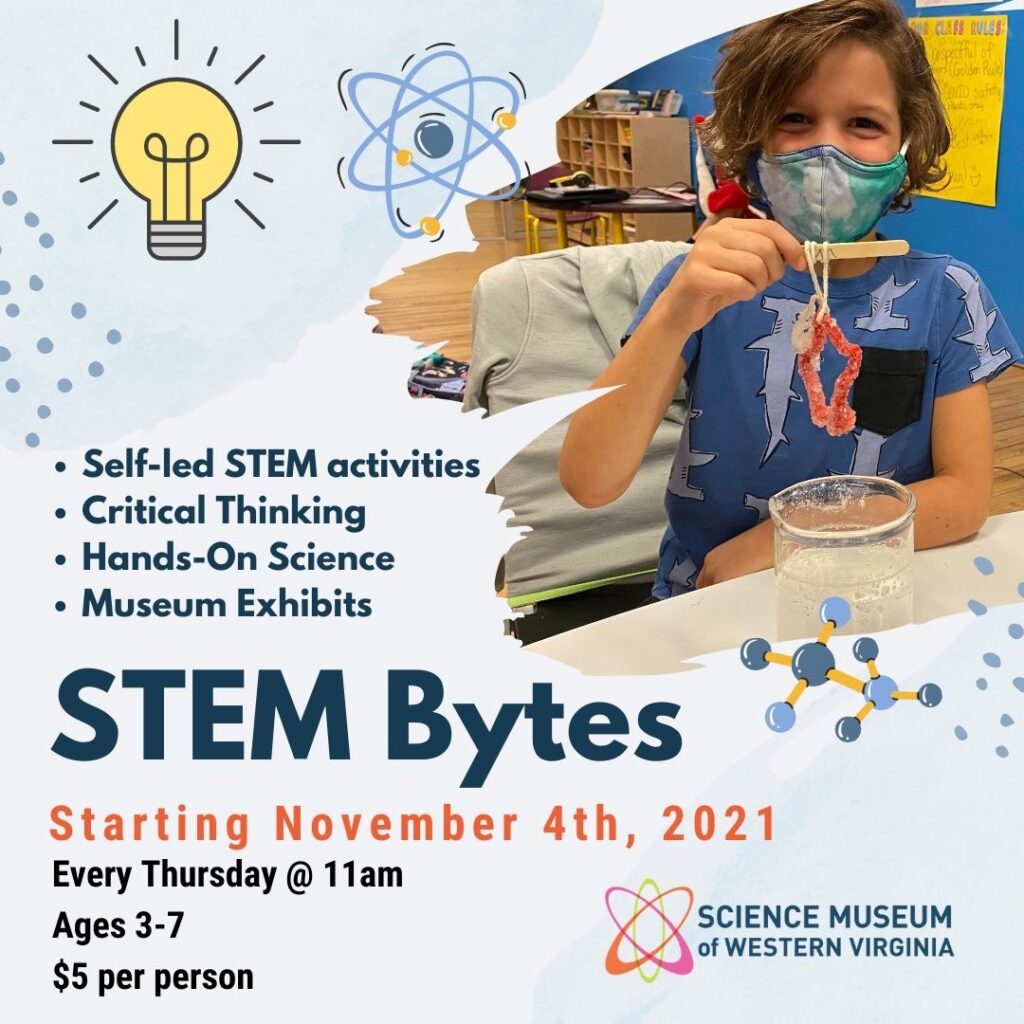 Stop in for our STEM Bytes every Thursday at 11am to utilize our self-led, hands-on STEM activities. $5 per person, ages 3-7.
Here are the upcoming topics:
*November 4th: Straw Poppers
*November 11th: Snap, Crackle, Pop
*November 18th: Hair Hygrometer 
Invest in the Future: The Eye
We are excited to bring our community our newest exhibit 'The Eye', an immersive digital environment that is out of this world! This exhibit is the only one of its kind open to the public on the East Coast.