Attention all homeschooling families! Stop in for our Homeschool STEM every Tuesday to utilize our self-led, hands-on STEM activities. $5 per person, ages 7-12.
Here are the upcoming topics:
November 2nd – Fireproof Balloon Experiment

November 9th – Egg Volume Experiment

November 16th – Balloon Balance Experiment

November 23rd – Finding the Center of Gravity

November 30th – Human Lung Simulator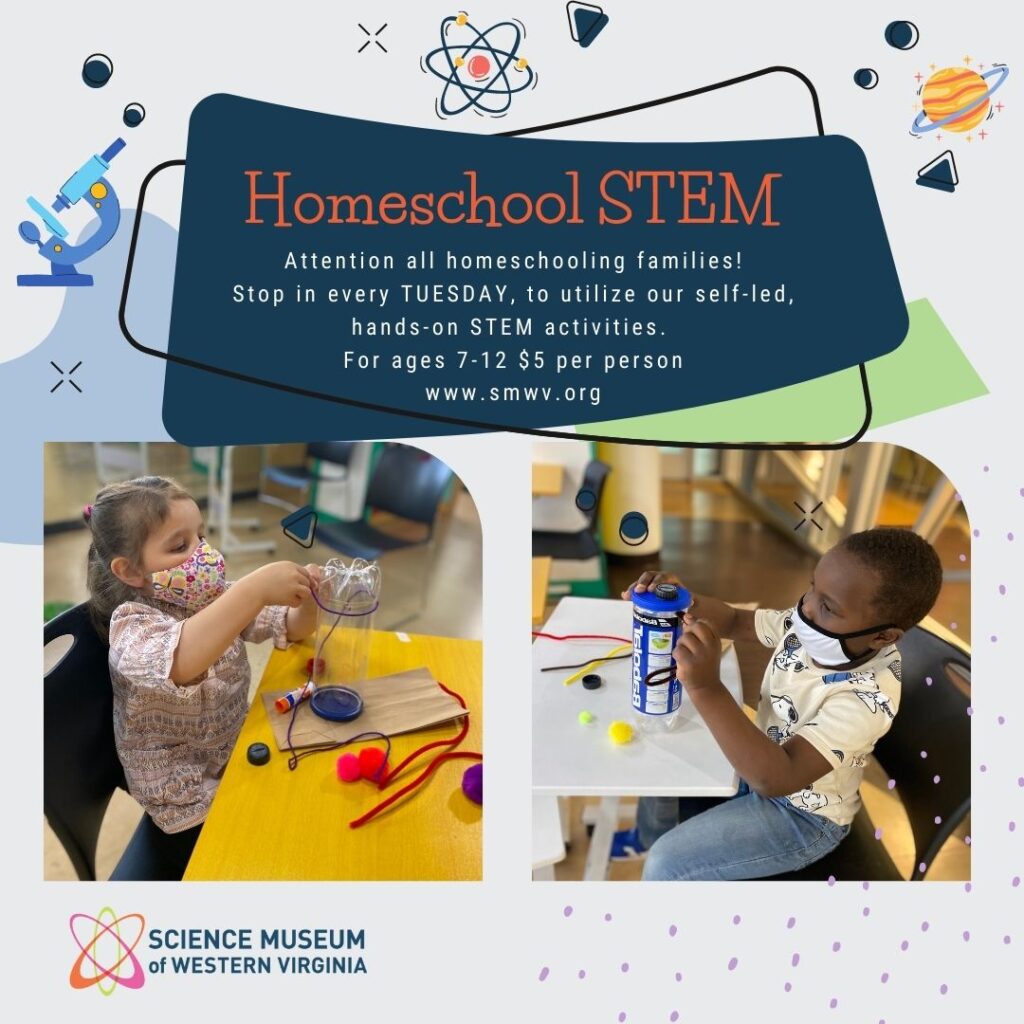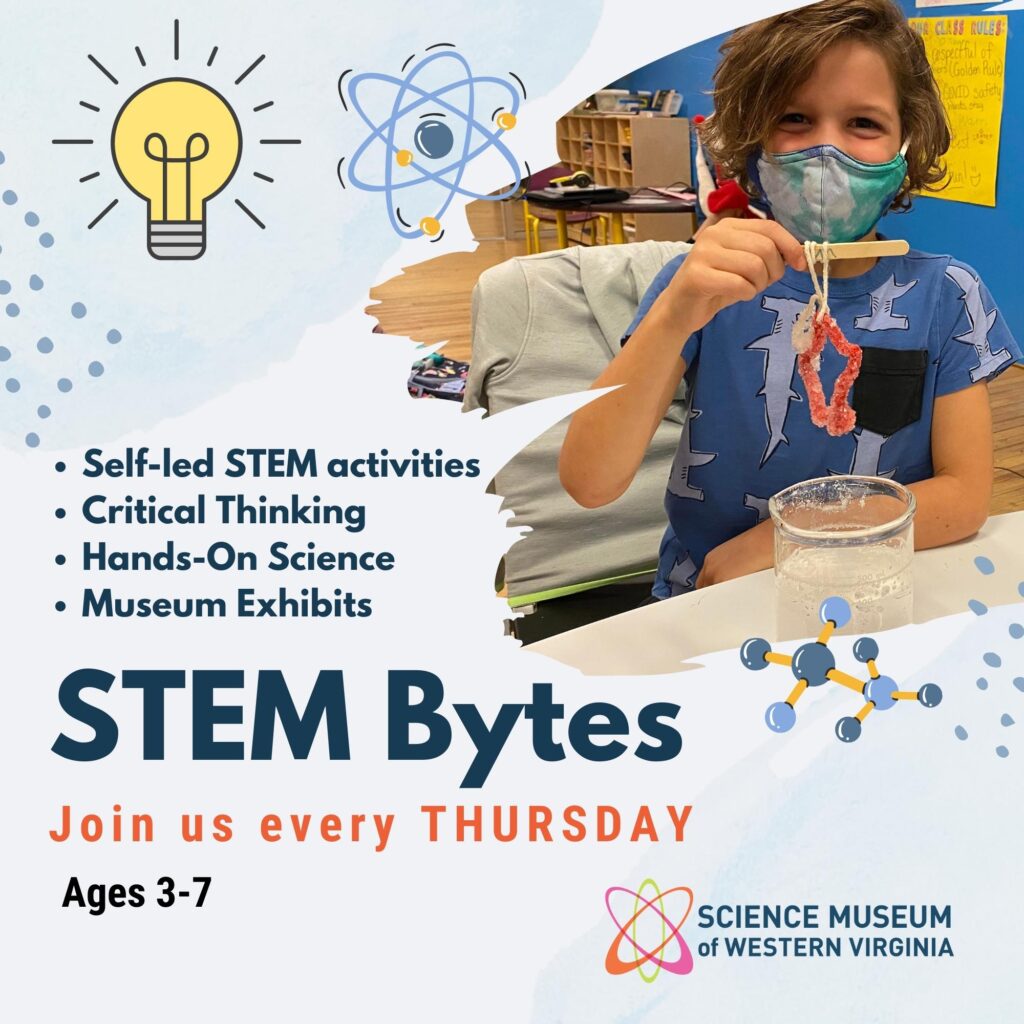 Stop in for our STEM Bytes every Thursday to utilize our self-led, hands-on STEM activities. Ages 3-7.
Here are the upcoming topics:
December 2: Balancing Pencils- Students will experiment with and manipulate the center of gravity.

December 9: Benham's Disk- Students will understand the role of cone cells in their eyes.
December 16: Bullfrog Caller- Students will create an instrument to mimic the sound of the Brazilian Cuica (a percussion instrument) and investigate how changes in vibration can affect sounds
Join us NEXT SATURDAY, NOVEMBER 27th and every 2nd and 4th Saturday of the month for Storybook Science. We will have STEM centered read-aloud story time and hands-on experiments. Recommended for ages 3-7. Free for members and $5 for non-members and $13 for the event and admission to the museum.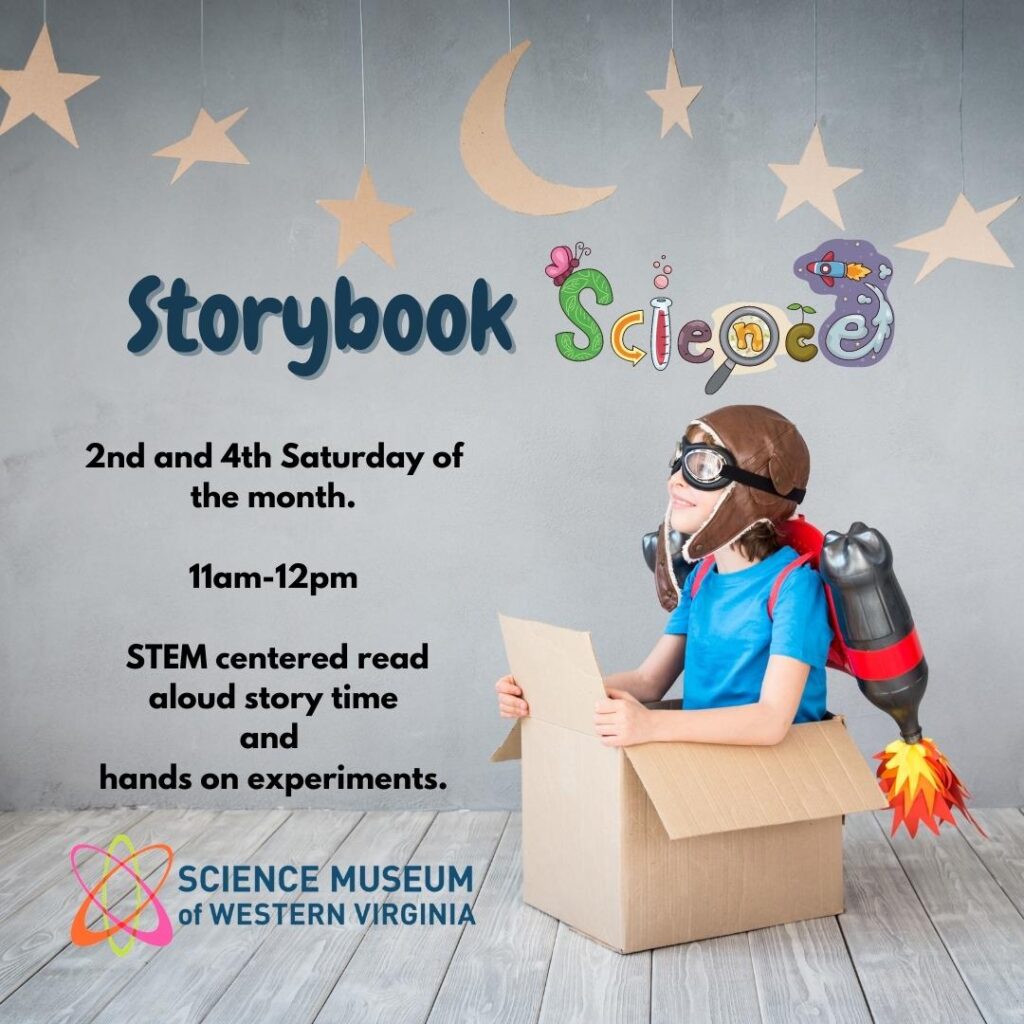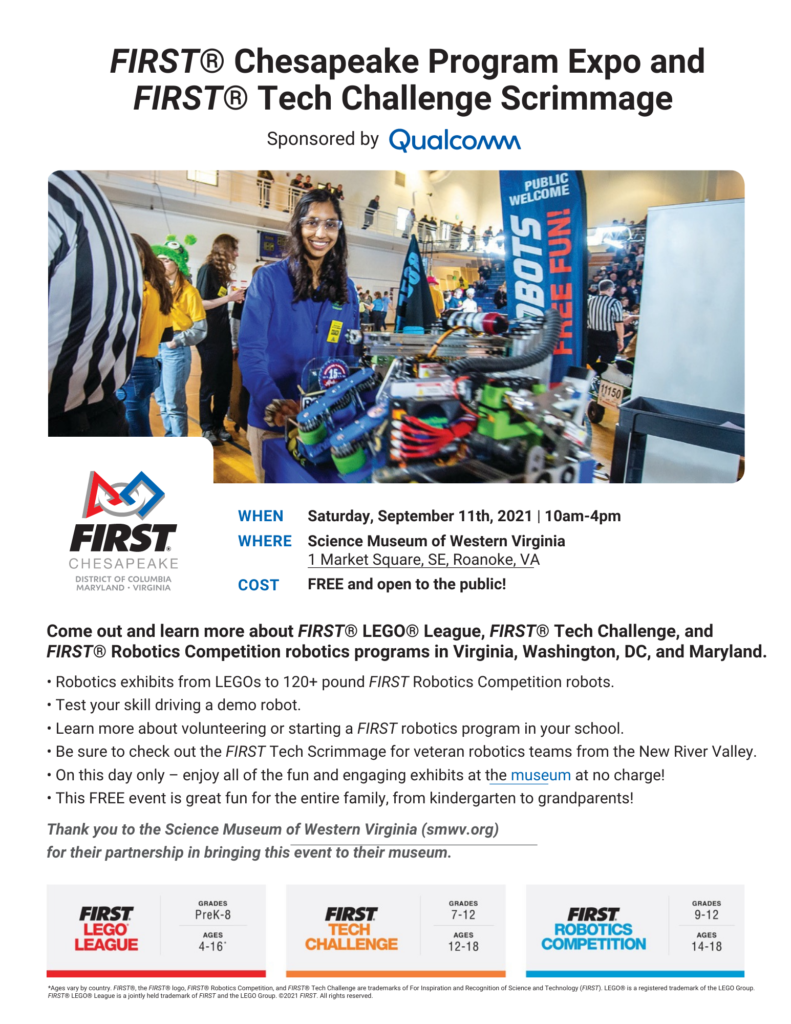 This
FIRST Chesapeake
event, as well as museum admission, are FREE for this day only!
On Saturday, November 6th from 10am – 4pm at the
Science Museum of Western Virginia
, come see robotics exhibits from LEGOs to 120+ pound FIRST Robotics Competition robots. Test your skill driving a demo robot. Learn more about volunteering or starting a FIRST robotics program in your school. This FREE event is great fun for the entire family, from kindergarten to grandparents
Be sure to check out the FIRST Tech Scrimmage for veteran robotics teams from the New River Valley. Middle and high school FIRST Tech Challenge robotics teams will also be forming alliances and pitting their competition robots against each other in scrimmages that will run throughout the day.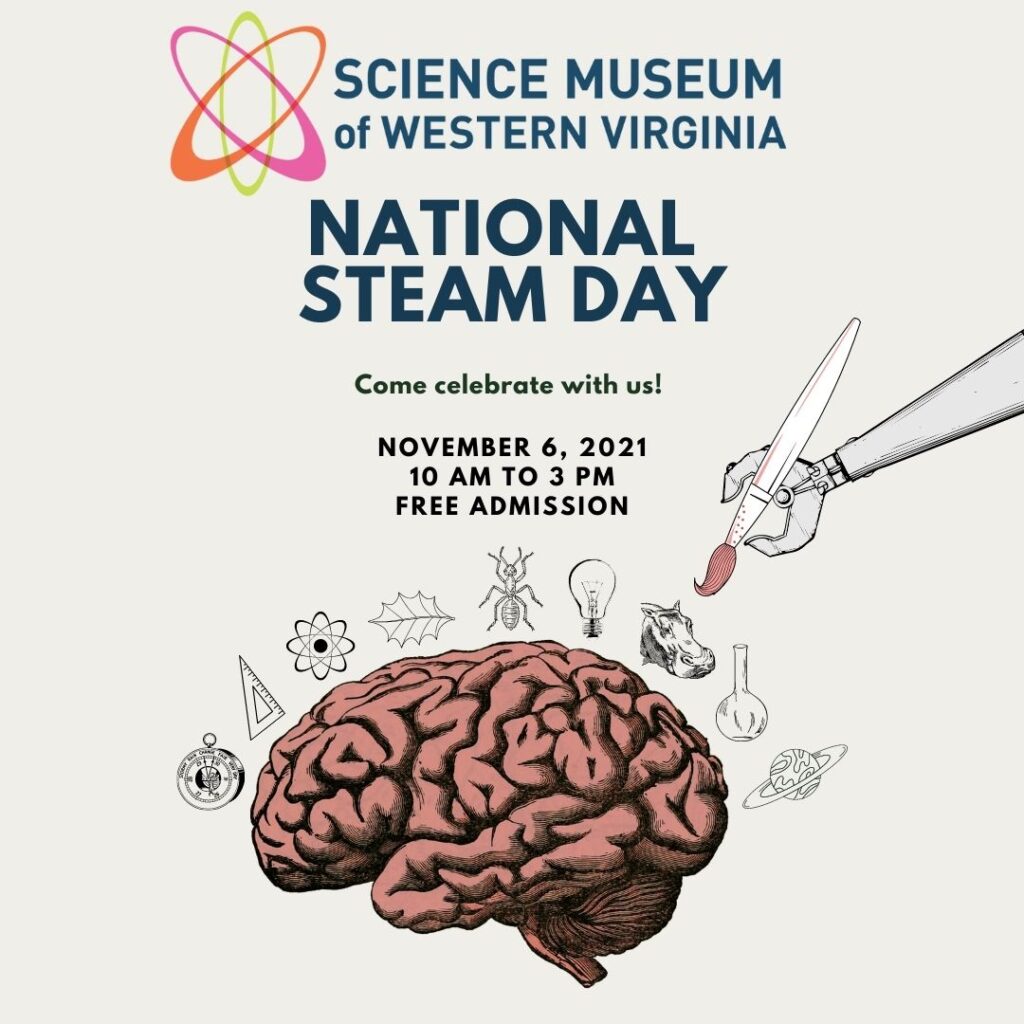 Fun fact: Did you know that National STEAM Day is held on November 8th because NOV8 is pronounced "innovate"?
Come celebrate with us for FREE Admission on Saturday, November 6th from 10am-3pm!
Our hours of operation are Tuesday through Saturday 10am-5pm and Sunday 1pm-5pm.
Do you love music? Do you love 90's nostalgia? Join us for our 90's music trivia night on Wednesday, November 10th from 6pm to 8pm at Big Lick Brewing Company. We will have a ca$h prize giveaway! Come by and see us!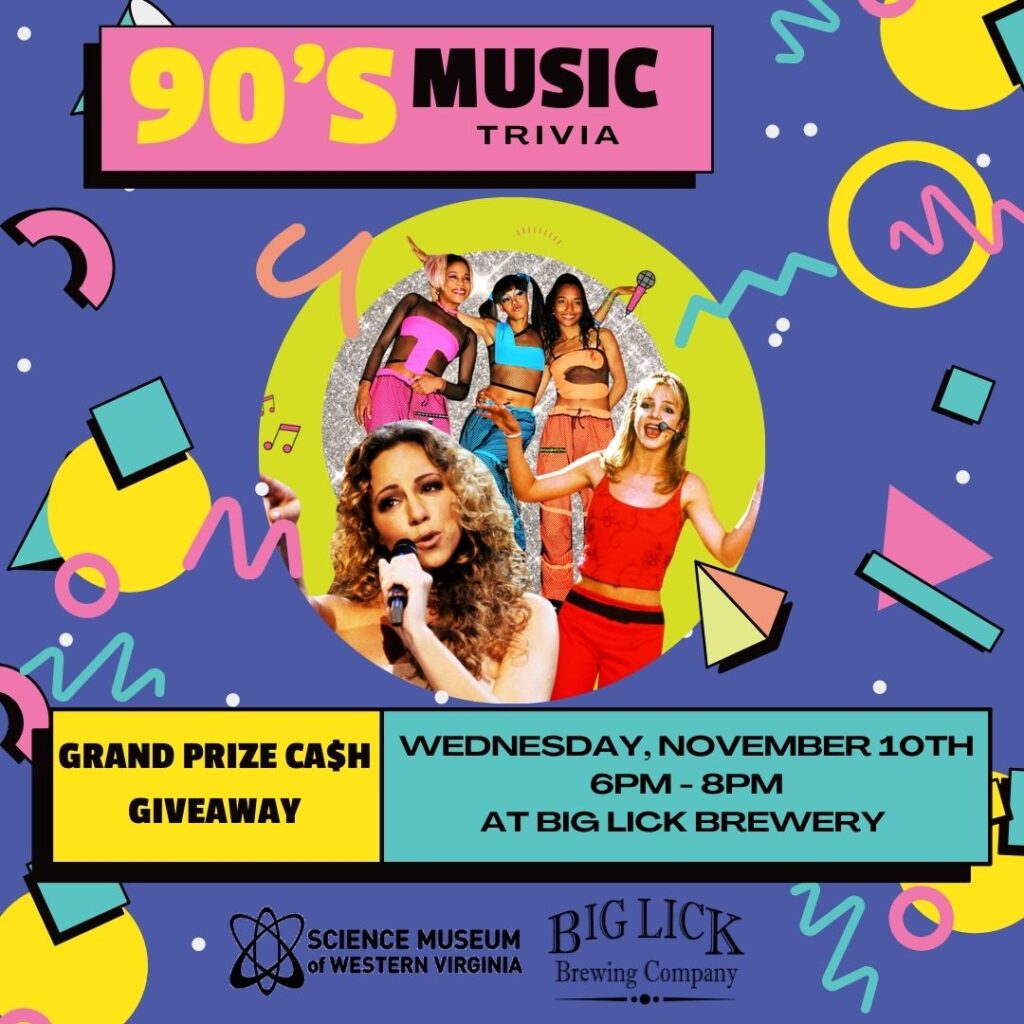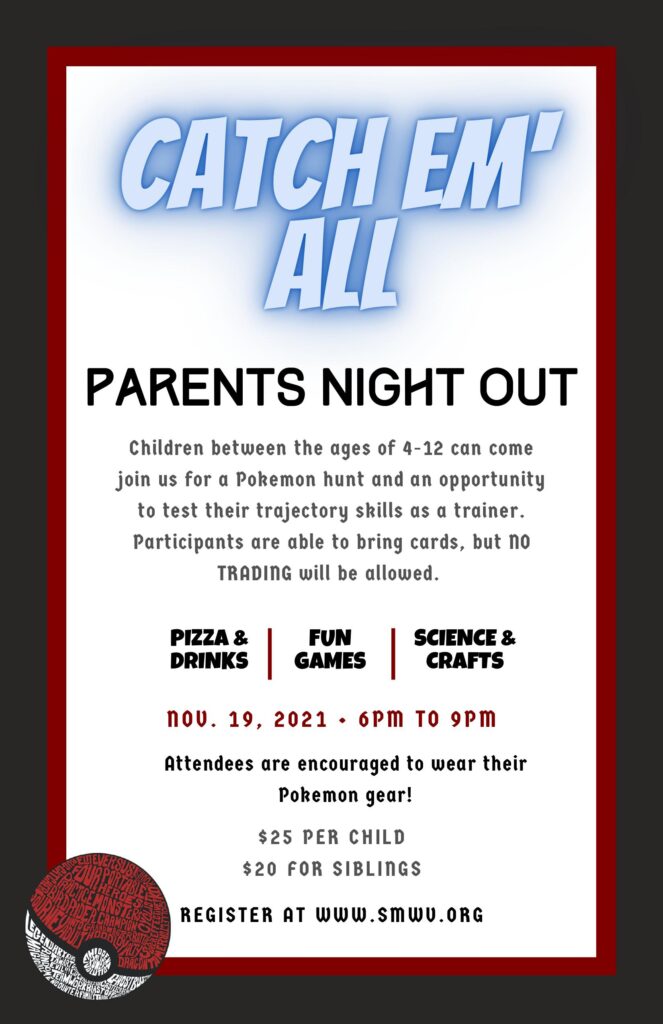 Drop off your kids at the Science Museum of Western Virginia while parents enjoy an evening out! Do your kids love Pokemon? Sign them up for our "Catch Em' All" Pokemon themed Parents Night Out on November 19th from 6:00 – 9:00 PM for ages 4-12. We will have pizza, free exploration time of the museum (all to themselves), a Pokemon hunt, crafts and an opportunity to test their trajectory skills as a trainer. Participants are able to bring cards (if they choose), but NO TRADING will be allowed.
Attendees are encouraged to wear their Pokemon gear! 
THIS EVENT IS FULL AND REGISTRATION IS NOW CLOSED. OUR NEXT PARENTS NIGHT OUT WILL BE JANUARY 21st 2022.
Join us at the Science Museum of Western Virginia in partnership with Virginia Cooperative Extension for fresh produce from local farmers and activities focused on kitchen chemistry! Each month, we will experiment with a different fruit or vegetable. This event is FREE for members and included in the ticket admission price!
Time: 12:00pm-3:00pm
Wednesday Sept 22:

Totally Tomatoes!

Friday Oct 29:

Zucchini with a Zing!

Tuesday Nov 2:

Keep it Cool with Cucumbers

Friday Dec 17:

Carrots…Getting to the Root of it!

Wednesday Jan 26:

Sweet Potatoes…Beyond the Marshmellow Mash!

Wednesday Feb 9:

BAM! Butternut Squash

Friday Mar 18:

Can we Convince you Kale!?

Friday April 15:

Lovely Lettuce

Thursday May 5:

Strawberry Fields Forever!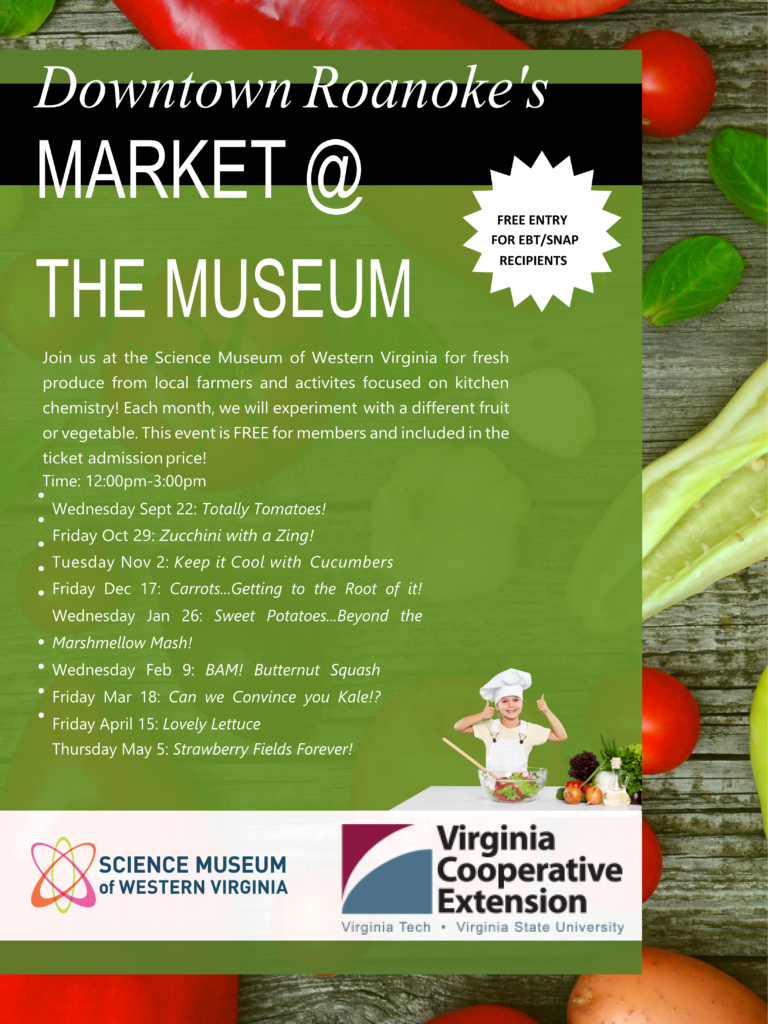 Arts & Crafts & STEM will be a free weekly event every Friday from 11am – 12pm. For ages 4+ and will be located in the maker lab. 
BLACK FRIDAY MEMBERSHIP SALE!
Get
ready for our BLACK FRIDAY MEMBERSHIP SALE! 10% off all memberships one day only!
The first 100 memberships sold will be entered into a drawing for a chance to win prizes.
We will be picking 3 lucky winners for the following prizes below:
1st PRIZE WINNER will get FREE admission for our Parents Night Out event for two children, a $100 gift card from Fortunato for dinner & one free parking validation.
2nd PRIZE WINNER will get ONE WEEK FREE for our Summer Camp 2022 Program for one child.
3rd PRIZE WINNER will get ONE FREE PARKING VALIDATION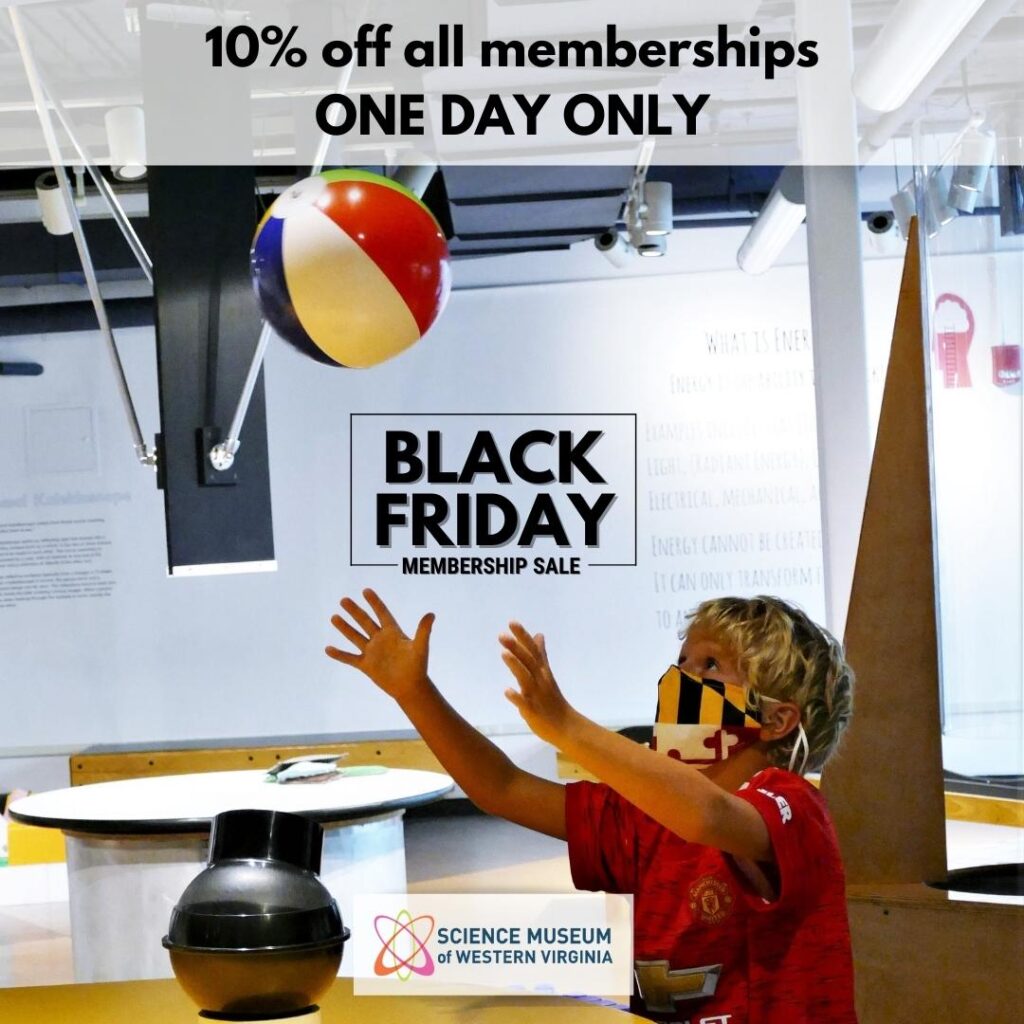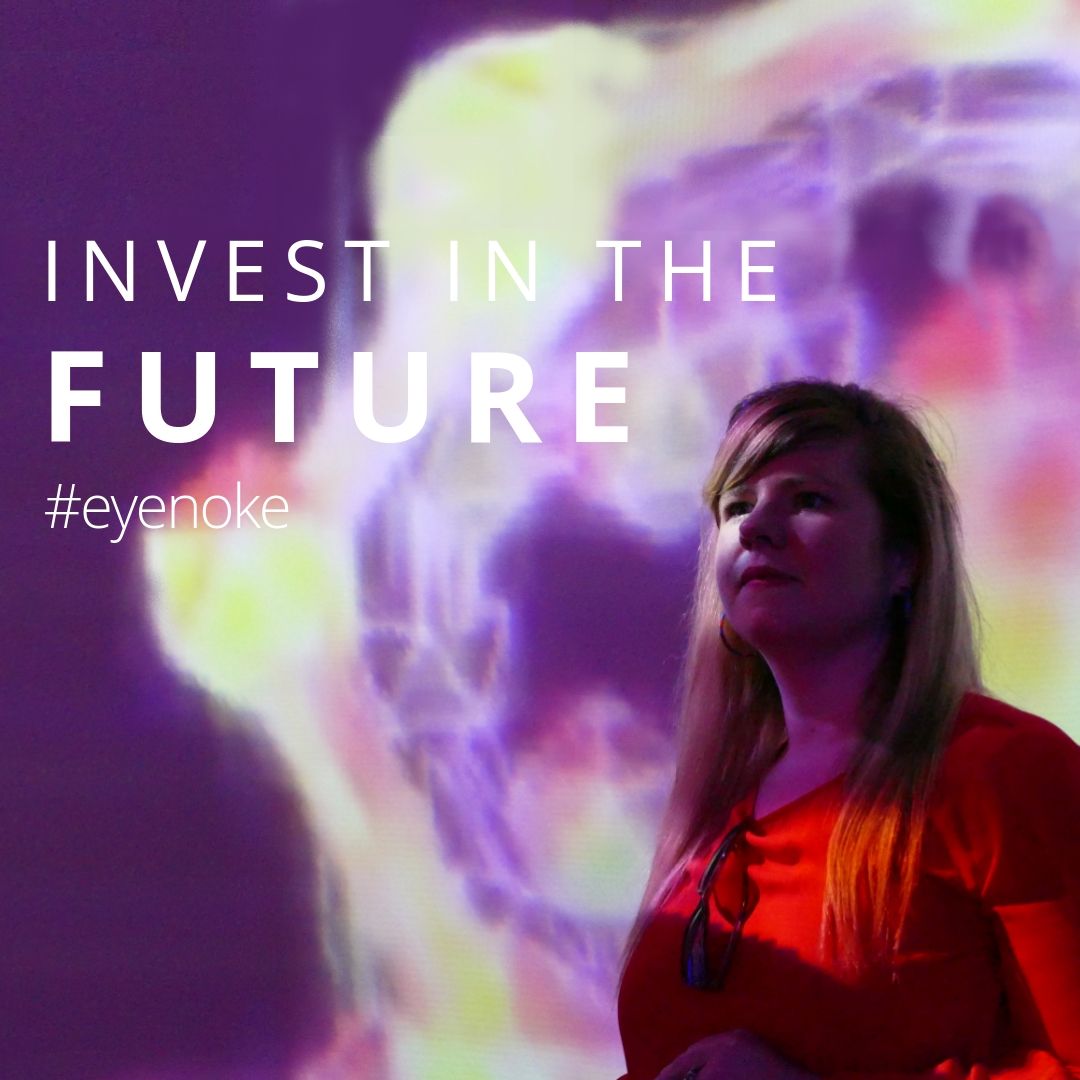 Invest in the Future: The Eye
We are excited to bring our community our newest exhibit 'The Eye', an immersive digital environment that is out of this world! This exhibit is the only one of its kind open to the public on the East Coast.
Join us for Winter Coding Camp in partnership with
Strokes of Genius, LLC.
from December 6th – 17th at 5:30pm – 7:00pm.
Students will learn how to code Dash and Dots and Makey Makeys. This will be a community event to showcase what the students have learned.
Strokes of Genius, LLC. is an empirical-based educational service provider. We provide intentional, relatable, and planned instruction that empowers a student's favorite way of learning. Cost is $175/ members and $200/nonmembers. Children must supply their own laptops. Recommended for grades 3rd-7th.